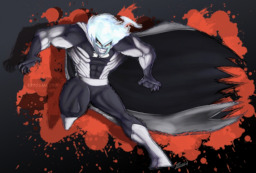 For ten grand years, the world trembled at the very mention of my name. My presence sent women and children running and caused men to openly weep at their imminent demise. I was once the greatest, but I was defeated by myself. I thought I could defeat him and make my future glorious, but I failed.
I was going to make Phantom pay for leaving me at the mercy of Clockwork and the Observers. I was going to remake my future. But fate once again intervened, sending me somewhere far past the ghost zone. It was awful at first, but when I saw how this new world's creatures trembled before me... I just couldn't deny my want for destruction of these pathetic creatures.
If only it had been so easy...
I do not own My Little Pony: Friendship is Magic nor Danny Phantom. This is made for entertainment only and not to infringe on any copyrights.
Chapters (4)