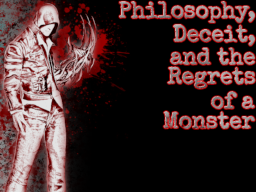 Blacklight had the truth. He knew what he was. He knew Alex was dead, and that he was never human. He knew that Dana was never his sister, and that he was never even slightly related to her. He knew that there was nothing tying him to Dana, no real memories or biological similarities or even species based empathy. For some reason, Blacklight loves Dana like a sister he doesn't have.
Perhaps this is what keeps him tame when he is brought into a place he does not belong. A scenario where a being of chaos and war brought to a place of harmony and peace is not often a pretty one. Yet with Dana there, somehow he manages not to go berserk and start murdering everything in sight.
Now the Monster of Manhattan contemplates his place in the world, lies to his sister and the ponies, and questions his lack of empathy when he begins to feel remorse for his actions. He is beginning to miss the simple times where the only things he had to deeply contemplate were methods of horrifically mutilating armies with the maximum amount of efficiency. At least that was straightforward.
(This fic operates under the assumption that Prototype 2 and its tie-in comics never existed. If you really have to ask yourself why, play the first game, then play the second game. The reasons should become apparent.)
(Well I'll be damned. Front page on the first day. Thank you all for your support!)
(Well, enough of you seem to think this is funny enough to be a dark comedy, so I added a comedy tag. I have to warn you though, I'm not entirely certain as to how consistent the comedy will be. So don't come into this expecting the wacky misadventures of a murderous psychopath.)
Chapters (9)