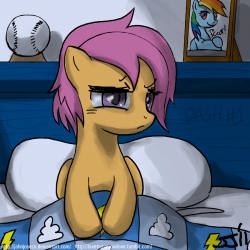 The Following takes place after Pinknesia: The Darker Descent.
Canterlot has been saved...The Entity defeated...and the lives of many restored. Celestia raises the sun...Luna raises the moon, and for once in six years in an age of blood and misery...Canterlot and Ponyville knows a peace that hasn't been seen for years and years. Quill and Twilight are set to be married, and Applejack is still trying to find the courage to tell Rainbow how she really feels.
But what about dear Scootaloo...a mare, grown now, in her own right? What does she...a year after succumbing and returning from death, have to say about Pinkie Pie, her mother who is believed to be dead? No body, no proof, no forgiveness. Under her smile, under her eyes, under her coat...a darkness emanates. Anger...and Despair, rocking her to her very soul. She is hell bent on finding Pinkie Pie, and NOTHING will stand in her way. What lengths will she go to, to find the mother she loves, and bring her home? Nopony knows...come now, watch...and listen...as we witness The Darkest Descent of them all...of a mare named Scootaloo.
Chapters (15)