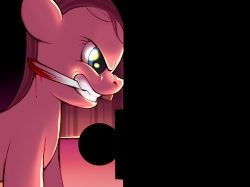 For the small town of Ponyville, the eve of Nightmare Night will forever be seen and viewed as a tragedy and murderous event. Pinkie-Pie, the Party Pony of Ponyville, has been accused of murder by a Health Inspector working for a rival chain of bakery and sweet shops in Equestria. Even with a powerful defense, Pinkie-Pie was charged with one count of Murder, but fled Ponyville soon after, her friend Fluttershy honorably taking the fall for her escape and herself being imprisoned for being an Accomplice. Five years later, a Detective Pony, Mr.W.Quill, will learn and discover the mystery of Pinkie Pie's Dark Descent, and the grim, bloody trail that was left in its wake. How the story ends...only through hearing the tale will the Detective discover it. He is willing to unravel the truth behind a plot of sinister evil...and will learn what a Pink Mare had to do, to save herself, and a town under siege
This is the tale of a baker, who had everything...and a colt of Power took her friend away, destroyed her happiness, and accused her of a most atrocious crime...and in her sorrow...a new mare was born. Never Forget...NEVER...Forgive.
Stay Tuned for a sequel!!!
Chapters (10)