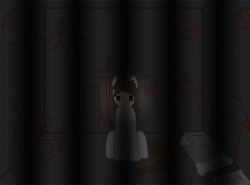 The following is a collection of One Shots or Side Stories that tie into the Silent Ponyville canon but do not directly effect the main storyline, just add to the appreciation of it. If you have not read the Silent Ponyville series then you will likely miss what can be appreciated from these stories.
More than Two Sisters: Just as Pinkie must come to term with Bellamina's passing, so must Octavia. The show mare decides to give her youngest sibling a proper send off when she gets an unexpected visitor.
A Party for Two Sisters: Pinkie Pie must reflect over the passing of her sister on her last days visiting her old home. She remembers an old memento of her sister that she desires and goes to find it. However, she is greeted to an unexpected event as she searches.
I Met a God Today: Ever wonder what became of The Colt from Silent Ponyville? A short look into the mind of a Sociopath in his jail cell and why he's still alive.
Visit From the Pink Mare: A 'What If' scenario where Pinkie Pie goes and confronts The Colt who haunted her mind for so many years.
Silent Ponyville 2 Ending: Was it Inevitable?+: A fan extension of this particular ending to Silent Ponyville 2. Dash must confront Fluttershy on the hasty choice she made in her life.
Chapters (7)