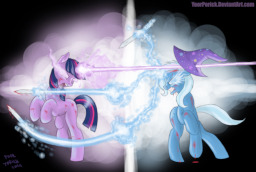 (Rainbow Vs. Wild ---> Octavia Vs. Rave ---> Shyness Vs. Kindness ---> Twilight Vs. The Great and Powerful.)
Twilight couldn't be happier for her friends. Rainbow Dash and Applejack have gotten together after their mishap in the Everfree Forest. Big Macintosh and Fluttershy have finally hit it off. And even her new friend Octavia has even found love with Vinyl Scratch! The only exclusions are Pinkie and Rarity, who are too preoccupied with parties or dresses to even care!
But...what about her? What about Twilight...who feels as if she's missing out?
There's little she can do about it for right now though, as Princess Luna herself has requested she help deal with a problem in Manehatten. Somepony has been causing serious trouble in the city that never sleeps, and Twilight isn't going to believe who's behind it all!
Can she let go of the past, look past the facade, and see a pony who's hurt, broken, and afraid?
Can she save a mare who everypony has deemed a 'Phony', a 'Failure', and a 'Dead End of Life'?
Will she hear the cries of help from a mare she thought she knew...and take a Leap of Faith?
Chapters (17)