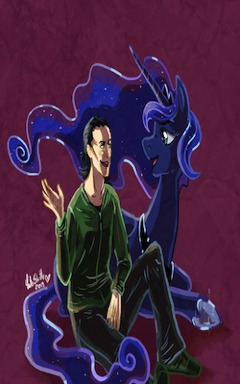 Source
A pariah who has long lived in their elder sibling's shadow, only to try and violently assert their own greatness and fail...both Loki and Luna know this tale all too well.
After the events of Thor, Loki Odinson of Asgard has fallen from grace, only to find himself in an unknown realm. Reaching out to him is Princess Luna, whom finds the similarities between them. Will Loki accept her help and recover from his dismay, or will he end up spurning it because of his arrogance?
More info below the break.
Arc 1: Entering Equestria 1-13
Arc 2: The Avengers 14-23
Arc 3: The Great and Powerful Student 24-33
Arc 4: Delving into Hel Itself 34-46
Mini Arc 1: Lorelei the Temptress 47-48
Mini Arc 2: The Equestria Games 49-50
Arc 5: Thor The Dark World 51-57
Arc 6: Calm Before the Storm 58-70
Arc 7: The Performance of a Lifetime, the Fall of Thanos 71-75
Arc 8: To Remember When One Should Forget 76-80, Epilogue
Bonus Chapters
Cover image from CuteSkitty on Deviantart: http://fav.me/d5whxcz
Chapters (92)