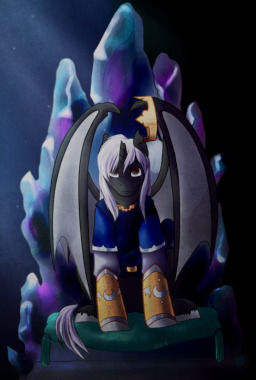 This fic was featured 21.12.2014
"Life can be found everywhere, as long it will be given a chance to flourish."
While the most ponies inhabit the surface of the world, some of them managed to adapt to the ecosystem beneath the earth. If it was their own choice, or some kind of punishment nobody really knows nor remembers. Seperated from their kin the ponies created their own society, populating the earth beneath the earth. The result was the birth of a nation that remained nameless until the very first Alicorn emerged from this unique society.
Since then their nation has been called Nocturia, and the bloodline of the very first Alicorn ruled over its subjects and the six existing tribes. For all this time they were seperating themselves from other ponies...
Until the day the King under the Mountain woke up from his coma, only to find the legacy of his ancestors being threatened by his own subjects.
My english is not the best. This is why I kindly ask for forgiveness ^^
Chapters (12)