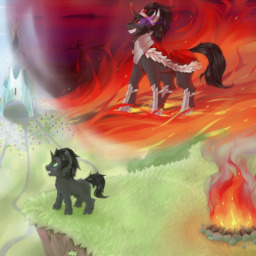 It's easy to hate a pony you don't know. The pony, whose name became the very definition of fear. The pony, who slaughtered thousands, if not millions. It's easy to hate what you don't know.
Sombra's life is shrouded in mystery. The long list of his crimes is known to everypony, but his real biography is unknown. Fight back your fear, and delve into the story of his life, from birth to imprisonment. Find out his every secret, feel his pain, his hatred, his love and his pride.
See how an innocent child was shaped to become the Eternal Weeper, the Bloody Emperor, the Demon King. See, how he earned these names, and why he walked the path he walked.
This story will contain gore, sensual scenes, disturbing ideas, mental disorders and very weird relationships.
Edited and proofread by: MessoriaAQ and Written Out
Note: This is a rewritten version! It's much higher quality than the beta version.
Cover art by: BillieW
Featured in Fiction Illumination on 18.11.2013. Big thanks to Cerulean Voice for featuring it!
Chapters (33)