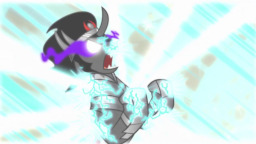 "... a unicorn whose heart was black as night..." - that's what Princess Celestia called him. Not a draconequus or a changeling, but a fellow pony. How could a pony become so evil? How could he harm other ponies? Aren't they the most peaceful creatures there ever were? Why did this unicorn follow such dark path?
What is the story of King Sombra?
Edited by Lazygamer313
AUTHOR'S NOTE:
- This story is placed in different universe that 'Rebirth of the Damned' and 'Project Eclipse', not to mention my other stories. When I finally reach 'Crystal Empire' Arc within RotD, King Sombra there will have different background.
Chapters (2)