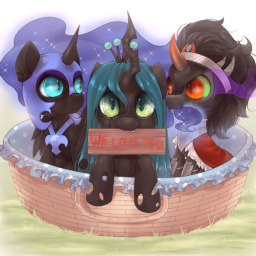 Source
Life is full of surprises. That is a known fact. However, you always expect some kind of minor surprise, like your train arriving a little too late, or your ice-cream having vanilla taste rather than strawberry. But sometimes, life will give you surprises you could never predict. For Fluttershy, it was three little foals. But not her own foals, or even orphans. Three little foals that used to be her and her friends' most fearsome and dreaded foes.
Sombra, Chrysalis and Nightmare Moon.
Will Fluttershy's nerves survive this onslaught of misadventures? Will she keep the three villains hidden? Will she even become friends with them? Why do I sound like a narrator to a bad criminal drama? Don't think or try to answer those questions, just go ahead and read!
---
Edited by: MessoriaAQ, Cerulean Voice, Gidget_TheGear, Twilight Fashion
Cover art by amazing Missangest!
Cover art got featured on Drawfriend in EqD!
The story itself got proudly rejected by EqD!
Chapters (16)