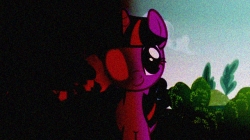 The following is a continuation and sequel of Pinkamena: The Dark Descent
It's been a few days since Pinkie Pie, the Party Pony of Ponyville returned from being banished to the moon after killing Inspector Trottington. Upon a review of her own actions and mentality during her "baking", Pinkie Pie seeks the professional help of Luna and a close Therapist Pony friend of hers in hopes to find the answers as to why she was so comfortable and unbothered by what she did. What they discover...is unimaginable. A dark entity is living inside Pinkie Pie, and although it has never controlled her, it had influenced her dark actions after being awoken from the sorrowful emotions of the Pink Mare. When a spell to rid this entity misfires, the entity succeeds in escaping from its pink prison, and escapes from Canterlot, fleeing to Ponyville. It's reasoning and purpose unknown, it finds and corrupts the first pony it comes in contact with...Twilight Sparkle.
Returning to the scene is our friend Detective W. Quill, curious as to the origins of The Entity and what its intentions are. Along for the ride comes Scootaloo and Fluttershy, hoping to aid the detective in his case.
With Twilight "Ponynapped", Canterlot in a state of shadowy chaos, and The Entity threatening all of Equestria...
...one Pink Mare, armed with a lantern, matches, and her own sanity...must travel to a place of nightmares, and begin A Darker Descent.
Chapters (14)