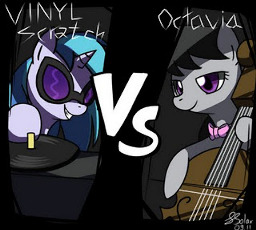 (The Votes are in! Here you go, the next installment of Leap of Faith!!!)(Note: Any songs I reference are properties of their respective owners and I do not in ANY way, own any of the musical content used in this fiction)
The Second Leap of Faith.
Octavia is known across Canterlot as a "High-class, prestigious pony of good taste and fair charm". Unfortunately for Octavia, despite hours upon hours of practice, she believes she is still ill-prepared to deal with one of the greatest and most respected performances in all of Equestrian History! The stress begins to mount, and her life begins to unravel in her own hooves, with no signs of escape and no release from the pressure of it all!
That is...until she convinced herself to go to a "Bar" named "Vinyl's Cage Coral". It is here she will meet the legendary DJ-PON3, the one and only Vinyl Scratch herself. When their eyes meet, Octavia can only see the word "Ruffian", where as Vinyl will see the word "Opportunity".
Can Vinyl Scratch, through whatever means necessary, convince Octavia to enjoy the fun and wild side of life? To put down her cello for just one second so she can hear another kind of music? The music of freedom...of life...of faith?
Just how far will Vinyl go...to help Octavia take a Leap of Faith?
Chapters (12)