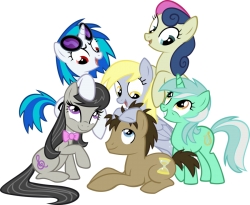 When a human, is mysteriously sucked into Equestria following his tragic death, he discovers a world of beauty, happiness, and magic. Transformed into a mare, and exposed to this new world that she was no connection to, she begins to learn what friendship is. But the ponies begin to reject her once strange things begin to happen in Equestria, and she embarks on a magical journey with her new friends to put an end to the evils that are penetrating the once peaceful world.
I would really appreciate feedback, support, and some thumbs! Thank you!
Photo credits to Hombre0, his DeviantArt page here.
Edited by Wivoatt, one of the most thorough editors ever! I greatly appreciate her help, here's her DeviantArt.
Chapters (12)