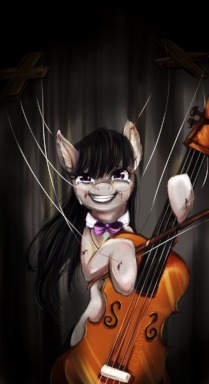 Source
My unicorn parents called me a worthless mud pony. They pushed me every day to overcome my lowly status. When I woke up one morning with my cutie mark, I thought they would love me. I couldn't have been farther from the truth.
It was not destiny or enjoyment that led me to discover the cello and composing. My parents made that decision, deciding before I was born I would continue their family legacy of famous musicians.
They did not realize what that decision would cost them.
Special Thanks and Links:
---
Cover Art: Dreampaw. The inspiration for the story.
Dramatic reading of Act I-III by Malao567. June 2013
Reading with music by ObabScribbler. June 2014
Song: Hooks and Strings by Reverb Brony. May 2014
Style inspired by H.P. Lovecraft
TypeWriterError: Editor & Rating Board
Gage of Grandiloquence: Editor
The11thWonder: Pre-reader
Nharctic: Pre-reader
Breath of Plagues: My Pinch Editor.
ArgonMatrix: Bad Grammar Exterminator
Daemon of Decay: Advice, also inspired me to write fan fiction. Blame him!
Chapters (3)