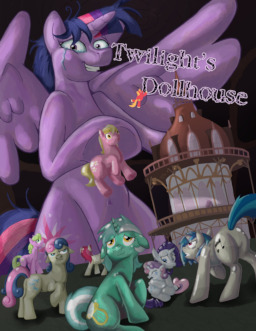 Source
The newly coronated Princess Twilight suffers an abrupt tragedy. Having lost two loved ones, she begins to question her own mortality, and that of her friends.
AJ, Dash, Rarity, Pinkie, Fluttershy. . . they are just the beginning. Twilight will live for thousands of years, so every pony she cares about—every pony she will ever care about, will die.
She could barely handle the pain of one funeral, let alone the thought of hundreds of them. Twilight finds a clever way to ensure all of her friends never die. They can't all be ageless alicorns, but they can all move into Twilight's Dollhouse. Then they can be best friends forever.
Sequel: Twilight's Dollhouse 2
Fanmade Song: Twilight's Dollhouse
Source: Dreampaw
Editor: Gage of Grandiloquence, Breath of Plagues
Pre-read & Idea pony: TypeWriterError,
v1.1 Revised chapters 1-10 on May 1st 2013
--Pending a few more revisions, including ch. 14
Now on TV Tropes.
Chapters (18)