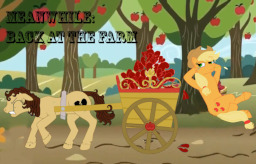 This story is a sequel to My Little Heartbreak: Creativi-Tea
---
For the whole of April, Heartbreak has been confined to the library under Twilight's orders. By the time May starts, being cooped up is starting to give her a serious case of cabin fever. Heartbreak wants some open space, some fresh air and a bit of grass under her hooves. Twilight wants Heartbreak to learn a bit more discipline and honesty about things. The two would butt heads, but Twilight finds a compromise.
Send her off to help Applejack with the first season's apple harvest!
But how will a pony like Applejack, whose motto is, "Honesty is the Best Policy," deal with a pony like Heartbreak, who has wrapped herself up in webs upon webs of lies just to cope with her situation?
Chapters (45)