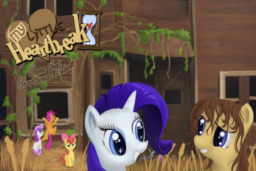 This story is a sequel to My Little Heartbreak: Meanwhile, Back at the Farm
---
It has been settled. This month, Twilight and CO agree that for Heartbreak to live in Equestria, she needs an actual place to live in. A real home. With money tight, and Heartbreak not having much of anything of her own, how are they going to get her this dream home?
The answer will drag both Heartbreak and Rarity kicking and nearly screaming through a series of seemingly unfortunate events involving travel, discovery, and later on: The Cutie Mark Crusaders!
But there are dark secrets still being harbored within both Heartbreak and her new home. Will Rarity, a pony who prides herself on her looks, charms and grace be able to teach a pony who doesn't care about any of those things anything about generosity? Hopefully. And hopefully before one of them strangles the other.
Chapters (45)