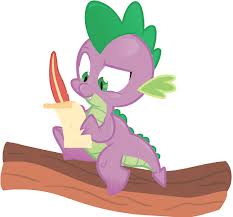 Source
Twilight's been dissatisfied with Spike's literary skills as of late, thus casuing her to give Spike a journal. He's not amused, but what can he do?
No matter how much he dislikes the thing, it's his duty to write in it whenever something of note happens. Little does he know that some very interesting stuff is to come...
An observation of what Spike could have wrote in such a book, covering all 26 episodes of Season 1. Also contains some pages from the Cutie Mark Crusaders.
(NOTE:This story was written when I was ten, but please don't let you turn that off! I think that the sequel, Spike's Journal 2, is better, but I am proud that I was able to gain so many likes at such an age. Enjoy!)
Chapters (27)