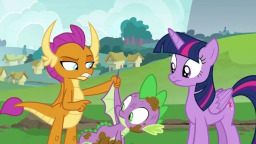 Source
Dragons are something of an enigma to Equestria. Those who do live within the borders are largely reclusive, either building their hoards or sleeping away the decades. So far as dragons who are active in everyday life in Ponyville go, Smolder represents a 100% increase in the population.
Twilight cannot let this opportunity slip her by. Enough time has passed for it to not be a diplomatic faux pas to sit Smolder down and grill her for much needed details on her species, not only for the sake of science, but for the benefit of the young dragon in her personal care. Naturally, the topic of death comes up.
Twilight handles that about as well as you might expect.
---
Discussion of death is largely academic and intended to be comedic but I've tagged it teen to be safe. No actual death or scenes of violence are shown so I didn't think the death tag itself was needed. It's also tagged for comedy as that was my intent, but only you can tell me if it's actually funny or not.
Now with sequel: Growing Up Dragon
Chapters (1)