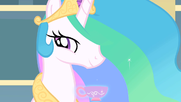 During the first conflict with Discord after his 1,000 year imprisonment, each of the ponies who wield the Elements of Harmony were forced to match wits with the Master of Chaos. All of them found that they were sorely out of their depth.
Except, perhaps, for one.
After Discord is imprisoned, Celestia takes each of the ponies aside to hear their stories. Fluttershy is the last one called and is a little nervous about the meeting. With a little encouragement from a friend, she is able to join the Princess for a cup of tea and describe her encounter with Discord. It might prove to be a rather fateful discussion.
--
Planned as the first in a series of related short stories based on Fluttershy as she shares tea with Discord and possibly one or two others.
Chapters (1)