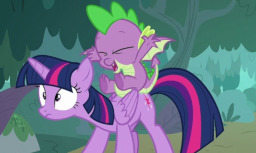 Source
Set in the reasonably near but indefinite future after "Molt Down".
---
Spike is growing up, a little bit at a time. It has its upsides. He can carry Rarity's luggage more easily, he gets to have a bigger bed, he doesn't fall asleep all the time, and, hey, wings are pretty cool, too!
Unfortunately, part of growing up is outgrowing things you used to take for granted. Alicorn Princess or not, Twilight's still a pony and ponies weren't built with carrying adolescent dragons in mind.
---
Something random that popped into my head while rewatching some of this season's episodes. It could be read as something of a tie in to my previous story, "Seven Hour Bubblebath", but it can be read as a standalone story as well.
Chapters (1)