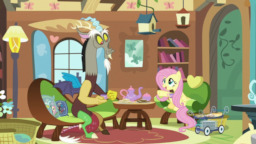 Source
This story is a sequel to Royaltea
---
There are two things that can be said about Discord with reasonable certainty. First, he will spread chaos wherever he goes and, second, he will be at Fluttershy's on Tuesday for tea. It's an arrangement that nopony else knows whether to take seriously or not, to the point that many in Ponyville doubt it even happens. So far as most of them know, Discord isn't wreaking havoc and the wielders of the Elements (and the Elements themselves) are to thank for it, end of story.
The truth is that the reigning in of Discord rests less on the Elements and more on one mare having the nerve to be his friend in the only way she knows how: with patience, kindness and consideration. It's an idea just crazy enough to work.
--
Follows on from my previous story Royaltea. This is planned as an anthology of short stories and scenes based around Fluttershy's friendship with Discord, specifically in the form of their weekly tea parties. Chronological order may or may not be followed from one entry to the next.
Chapters (2)