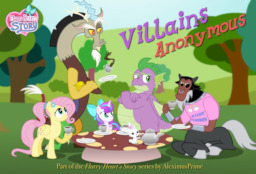 Source
This story is a sequel to Flurry Heart's Story: Calming of the Storm
---
Tirek is brought before Twilight and sentenced to a mandatory reformation class with Fluttershy and Discord while Flurry and Spike tag along for the day to see if it works. Tirek seems to eventually come around until they discover the truth about his motives. Can they actually change the centaur criminal's heart or will his unfettered hatred keep him from listening?
Inspired by the official show, this is part of a fan-made sequel series I created called "Flurry Heart's Story", which documents the adventures of Flurry Heart as she makes friends and faces new and familiar villains, some of which may still be redeemable.
Next story: Apple Family Memories
Flurry Heart's Story and its author are in no way associated with Hasbro or any of the creative team behind My Little Pony: Friendship is Magic. This series is entirely fan-made and is created in honor of the official show. No copyright infringement is intended or encouraged. Please support the official release.
Chapters (5)