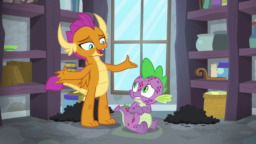 Source
This story is a sequel to Leading Causes
---
Twilight Sparkle has more than a little anxiety about Spike's upbringing. In the wake of the Molt and the Sludge fiasco, those anxieties are clearer and stronger than ever. Like any good caretaker, she took advantage of an opportunity to learn more about dragons, including their needs and, most importantly, their vulnerabilities.
What started as a casual conversation about death for Smolder spiraled out of control into a full-fledged princess freakout, one that she is in the middle of. When it becomes clear that her teachers are completely hopeless when it comes to dragons, it's up to her to take Spike under her wing and teach him what they can't, one lesson at a time.
---
After a surprising number of requests for a sequel to "Leading Causes", I finally came up with something of a quasi-anthology of Smolder's lessons to Spike. While I do have a fair number of ideas, expect sizable gaps between updates.
Rated for academic descriptions (but no depictions) of death, and possible future scenes of hunting and fishing at a level slightly too mature for an E rating. Warning tags may be added later if I, or any commenters, feel they're needed.
Chapters (7)