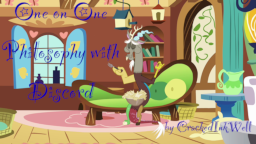 This story is a sequel to The Philosophical Substitute: Discord
---
Warning: The following you're about to read contains philosophy in plain English. If you do not like this, you know where the exit button is.
---
After the events of "The Philosophical Substitute," Discord is now taking on as a full-on teacher in Twilight's School of Friendship. Even though his past students (the Young Six) have technically graduated his class, they still come to him time to time to ask him some of life's toughest questions. Eventually, even their teachers come to him for guidance.
What follows is an anthology series of what each character learns from the Ex-Lord of Chaos.
---
A special thanks to Azaclop for proofreading.
---
Lesson Plan (in no particular order):
Sandbar - On Fate and Free Will (Dealing with cutie marks? Do ponies have a choice in what they can or can't be?)

Smolder - On Life and Death (possibly afterlife? Cost of longevity?) ✅

Silverstream - Should Power Belong to the Few or Many? ✅

Yona - What's the point of Spirituality? ✅

Gallus - On Envy and Jealousy. ✅

Ocellus - On Identity and the Self. ✅

Twilight - On Balance of Governing. ✅

Applejack - Why do nice people lie? Why does dishonesty exist?✅

Rainbow - On Bad Faith (Sartre)

Rarity - What Luxury Couldn't Buy (Epicurus? Diogenes?)

Fluttershy - Why Others are Mean?

Pinkie Pie - On Cheerful Sadness.

Starlight - If worse comes to worse.

Discord - Know thy Self. A Philosophical Mediation.
Chapters (11)