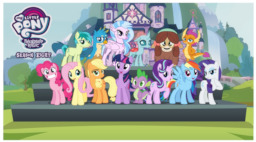 Source
This story is a sequel to My Little Pony Friendship is Magic What If?: Volume 7
---
Eight seasons of material, seven volumes that have come before it, six new characters to include, five times as much focus, four seasons of rewritten episodes, three non Season 8 episodes, two special characters to add, and one volume to hold them all! It's that series which seeks to answer the fateful question "What if that episode had been written differently?"
There are fourteen episodes in this collection, three from Seasons 5-7 and the remaining eleven are all from Season 8. There will be quite a few personal rewrites of episodes I enjoyed or found good enough, but could've done more or done something differently. And there will of course be much more focus on the student six, giving them the screen time they were sorely lacking during Season 8's original run. There's also going to be one Season 8 episode expanded into a two parter, which means another episode will have to bumped off to make room. And some characters that were either absent from Season 8 before or appeared only in the background will get their chance to shine in this collection.
As always, the same disclaimer applies, the episodes rewritten are based on my personal opinion so please respect it. Don't get offended if an episode you liked is on the list here, or an episode you didn't like isn't. I'll gladly respect your opinions if you respect mine.
And of course, I mean no disrespect to Hasbro, the DHX writing and editing staff, or anyone who likes the episodes that appear here. The intent of this fic, like all of its predecessors, is for entertainment purposes only.
You can access the first volume from the main page of my account, and from there you can follow the links to see what episodes have already been rewritten in Volumes 1-7. To list them all here would take forever.
Chapters (14)