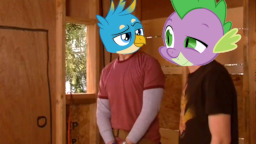 It's a new year! Big changes are coming for Gallus; he just became Captain of the Royal Guard, and has a lot of new responsibility! Now where's that Princess he's supposed to guard?
This was written for semillon as a part of Jinglemas 2020! For more information about Jinglemas, checkout our group!
Cover art is self explanatory.
Chapters (1)