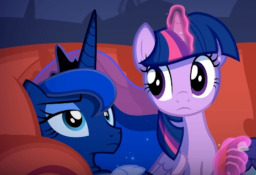 Source
Have you ever been really frustrated when you're trying to take something super seriously, but nobody else seems to care? That's pretty much what Nightmare Moon has to deal with when Twilight and friends don't really feel like fighting her and just ask her how she's doing.
Profanity tag for one f-bomb.
Cover art is a screencap from 2Snacks' Shadow the Hedgehog video
Now with a reading by StraightToThePointStudio, feel free to check it out!
Chapters (2)