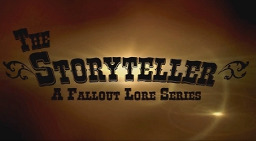 Source
Having been assigned a project about researching lost civilizations, and learning how friendship could have helped them survive, the Student Six try to find something unique. They find in the form of a sphere hologram projection, which tells about a different world that is plagued by ghouls, deathclaws, and super mutants. A world where various factions fight for survival, and to rebuild the human race in their image. A world that is both harsh and dangerous where friendship and decent kindness are a rarity.
A World Of Fallout.
Thanks to Chaotic Note, Titanium Dragon, Black Hailstorm, and Anonymous for helping with this.
The Storyteller series belongs to ShoddyCast who I recommend you follow. I also suggest watching the series of the Storyteller if you are a Fallout Fan or want to get into the Fallout series which belongs to Bethesda.
Chapters (23)