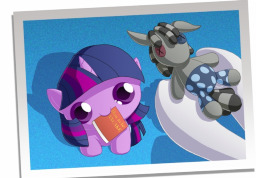 Source
For hundreds of years, Twilight Sparkle has managed to go through her life by working day and night as the sole ruler of Equestria. Sensing her life coming to an end, Twilight looks back at her achievements and believes like something is missing since the last of her loved ones died.
One day, Twilight finds some old relics with her great-great-great-great-great granddaughter with one of them being her old doll, Smartypants. Memories of the time she used to play with her favorite doll, even bringing it to life with a spell, flood her as long-buried emotions come out. It is with Smartypants that Twilight will find what she has been missing all this time.
***
Inspired by BerrryPAWNCH's Growing Pains Comic, who I thank for the permission to do this fic.
Thanks to my Editors: Darth Link 22, First Down, Chaotic Note, BronyWriter, and Socks
Chapters (1)