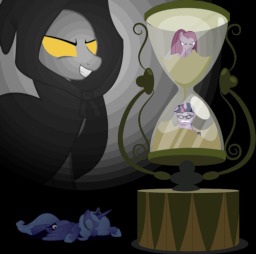 Source
On the first anniversary of the defeat of Nightmare Moon, Pinkie Pie is preparing the party to end all parties. It is her masterpiece, to show her father that she was justified in fleeing the family farm ten years earlier.
Acting off of a mysterious remark by Princess Luna, Twilight Sparkle is trying to work out which of her friends is suffering from nightmares about a horrible danger coming to Ponyville during the Summer Sun Celebration. All she knows is that this pony lied about their cutie mark story...
And Pinkamena is also preparing for the arrival of her father. She has a masterpiece of her own, but it is quite different from Pinkie's...
Chapters (12)