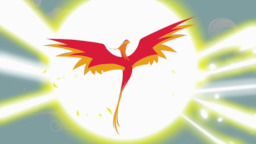 A phoenix seeking out a good nesting place finds an unexpected connection with the ponies living nearby. Unexpected for her, at least—they've been looking for just this phoenix.
Expanded version of a minific that won 3rd place in the /fic/ write-off "All In."
Featured on Equestria Daily!
Thanks to Chris for letting me bounce a few ideas off him.
Chapters (1)