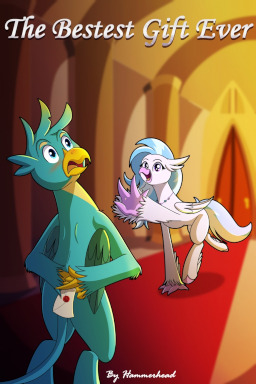 It is winter in Equestria, but for Second Lieutenant Gallus, he's instead of going to spend the holidays in Equestria or even Griffonstone. He and his loving hippogriff Silverstream are off to her home in Mount Aris to enjoy the Three Days of Freedom Celebration with her extended family.
Hippogriffs give each other gifts on the third day, and for their first holiday as a couple, Gallus wants to get the perfect gift for Silverstream. There is just one problem, that's easier said than done.
One is that Silverstream has a tendency to love everything in sight, what would be the perfect gift for some creature like that? Second, how can a simple griffon compete against Silverstream's Hippogriff Royal Family?
Written for Jack of a Few Trades for Jinglemas 2021.
Cover art by Little Tigress.
Chapters (1)