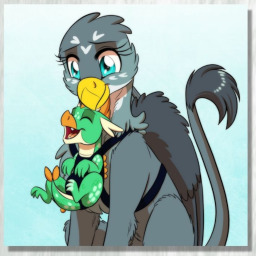 Source
It was a typical day in Griffonstone for Gilda and Greta, just trying out some fresh Griffon scones when their other friend Gabby arrives after being away for a few months.
Nothing was out of the usual, at least until the two discovered Gabby was carrying a baby with her. Not just any baby, but a dragon baby, and she says she's its mother.
This just leaves Gilda and Greta with a few uncomfortable questions they feel they cannot avoid.
This story is based on this series set in the Alternate Universe created by InuHoshi-to-DarkPen.
Chapters (1)