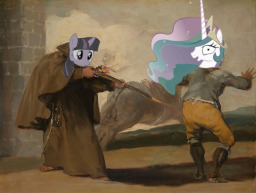 Source
This is satire.
Synopsis:
Celestia is dead. Mistakes were made.
Contains: blood, naughty words.
Cover art is Friar Pedro Shoots El Maragato as His Horse Runs Off by Francisco José de Goya y Lucientes and badly edited by me.
Now with a reading by StraightToThePointStudio, feel free to check it out!
Chapters (1)