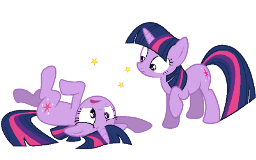 Have you ever seen a pony that just seemed out of place? Perhaps some mannerism, some behaviour that just struck you as odd? Some piece of clothing that didn't seem quite right? perhaps a coat or mane whose colour just seemed flat-out weird. A strange build, a strange voice, or maybe they were perfectly normal, except that you swear you just saw the exact same pony not five seconds ago somewhere completely different?
Of course you have. Everypony has encountered an Outsider at some point. But never up close, it's always at a distance, and they're always gone before you have the chance to challenge them.
But sometimes the rules get broken. Sometimes fate gets distracted for a moment, and a lone unicorn mare gets to see something that she was never meant to see.
Twilight Sparkle's day is about to get very weird.
---
FAQ and Supplemental Materials (Potential Spoilers for new readers)
---
Featured! Twice!
...I really don't know what to say!
Special Thanks go to Horizon for initial proof-reading, editing, and signal-boosting, provided as a prize for spotting an Easter egg in his story Hard Reset II. Seriously, it's an awesome, brain-warping story and you should go read it right now.
Thanks also go to my editors for putting up with my atrocious grammar and spelling errors - Ganelon, Ephraim Blue, BronyWhooves, Commonancestry, Princess Autumn Forest, and Morning Sun
Cover art credit goes to EMedina13 and tamalesyatole. I am looking for more appropriate art, so If you think you can do better, let me know.
Chapters (27)