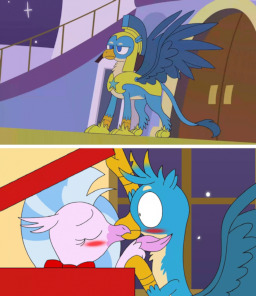 Source
It all happened so long ago... we were young, different, dumb then. Besides, I've moved on from that part of my life.
---
Loneliness is a scary thing. It can gnaw away at the back of your mind, with your instinct being to try to push it down, when you can't figure out how to deal with it. Just ask Gallus how he knows that. He has foresworn relationships, after being unable to sustain them, instead focusing on his duties as Equestria's Royal Guard Captain. He has accomplished so much and yet... there's still that emptiness, gnawing at the edge of his mind.
---
Meanwhile, Silverstream is more sure than ever that it was a horrible mistake - her and Gallus breaking up. Can she win back the one for her? Will succeed in opening Gallus's eyes to the truth?
As scary as it can be to look for a part of yourself that you feel is gone forever, broken beyond repair, is it ever truly gone if you gather the courage to cast your eyes upon it?
---
Inspired by the short animation Gallus's Gift by TheAnonymator. Cover art is stills taken from the animation.
---
Written for The Discovery - A Young Six Writing Contest.
---
Despite the "Sex" tag, there is nothing explicit contained within. The tag is merely there for strongly implied sexual conduct.
Chapters (4)