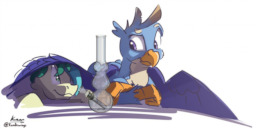 Sandbar wants to f*ck Gallus's butt.
It's been like that since school. Now, three years later at their annual Hearth's Warming get-together, it's decide that Sandbar has to admit his feelings to him now or never. Smolder will help any way she can, even if that way is unexpected...
Also, everyone is high.
---
Written for Petrichord for Jinglemas 2022. I'm sorry that you live in the era that I was born.
Special thanks to Semillon for writing the ending. I wouldn't have finished this on time without him.
Don't self-harm. People get hurt from self-harm every year.
Chapters (1)