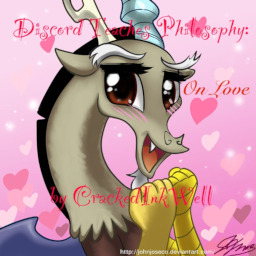 Source
This story is a sequel to One on One Philosophy with Discord
---
Warning: The following you're about to read contains philosophy in plain English and is currently unedited. If you do not like one or both of these, you know where the exit button is.
---
Years after Starlight Glimmer becomes the new Headmare of the School of Friendship and Twilight ruling over Equestria, Discord is still teaching useful philosophy classes. Although he is known for his unusual teaching methods, there have been rumors that he may have to take a liking to Professor Fluttershy. However, that rumor was never confirmed in any way.
That was, until one Summer when Discord put up the offer for a surprising class in the felid of Philosophy. The subject was about love. Even with Discord promoting the class, one question is raised: why?
---
Lesson Plan:

Lesson 1 - What is Romanticism ✅
Lesson 2 - On Being Single ✅
Lesson 3 - On Dating
Lesson 4 - Challenges of Marriage
Lesson 5 - Why Do Some Have Affairs
Lesson 6 - When to Leave
Lesson 7 - How to Fall in Love... Again
List of Students and Status:

Fluttershy - Single
Sandbar - Dating
Gallus - Single
Ocellus - Dating
Smolder - Dating
Yona - Dating
Silverstream - Single
Cadence - Married
Shining Armor - Married
Starlight - Dating
Trixie - Dating
Braeburn - Married
Applejack - Married
Rainbow Dash - Married
Big Mac - Married
Sugar Belle - Married
Ms. Harshwhinny - Single
Spoiled Rich - Married (Divorced?)
Filthy Rich - Married (Divorced?)
Fleur de Lis - Dating
Fancy Pants - Dating
Troubleshoes - Married
Soarin - Single
Lyra - Married
Sweetie Drops - Married
Mr. Cake - Married
Mrs. Cake - Married
Miss. Cheerliee - Single
Twilight - Single
Rarity - Single
Chapters (5)