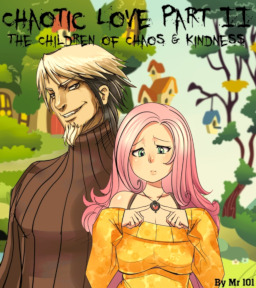 This story is a sequel to Chaotic Love
---
[The sequel to Chaotic Love, reading it is advised.]
---
It's been ten years since Discord defeated his inner demons and married Fluttershy. Now the father of three children, Entropy, Pandemonium and Songflower, he lives his days in peace & quiet with his wife and their friends.
He couldn't be happier.
But when something from his past threatens to resurface and possible tear apart his whole world apart, he stands to lose the one thing he cherishes over all else.
His family.
---
Temporary Hiatus whilst plot gets slight re-vamp. Apologies!
---
Humanized ponies, cover art done by ManiacPaint, background from Google images. Edited version to come!
Chapters (2)