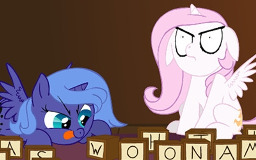 Set in the 'Youngverse'
King Terra and Queen Aeterna hire a new nanny for their daughters Luna and Celestia after the lastest nanny angrily humbly quits her position after a series of pranks by the two siblings. (Once again being instigated by Celestia).
When they meet her, Luna instantly takes a liking to her. However, Celestia isn't so keen on the idea... and tries to deter the new nanny away from her post.
... with backfiring results.
---
Big thanks to DVAN56 and bocaj518 for pre-reading.
---
Cover art taken from this fantastic comic by the awesome greviousfan, go give her some love!
Chapters (1)