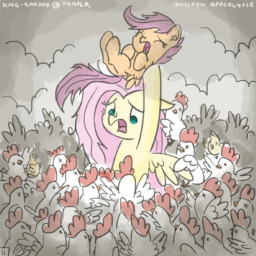 Whilst on her own, Scootaloo decides to help Fluttershy tend to her animals in the hopes of getting an 'animal helper' cutie mark.
But things take a turn for the worse when Fluttershy's chickens simply won't leave her alone, believing Scootaloo to be the re-incarneted chicken goddess.
---
Inspired by the cover art done by the awesome King-Kakapo, go show him some love here and there.
---
Thank you to my pre-reader DVAN56 and my editors Draconian Soul and Vexy, go check out some of their stories!
Chapters (1)