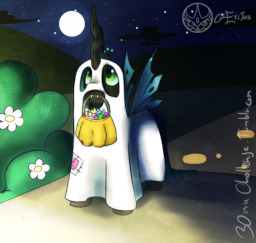 Set in the 'Youngverse'
Princess Chrysalis is excited. Her mother and father, the current rulers of the changeling kingdom, have allowed her to go out into the neighbouring Equestria in order to take part of their annual holiday, 'Nightmare Night'.
Dressed as a ghost and followed by her royal guardian, Obsidian, the giddy changeling steps out to enjoy her first ever Nightmare Night.
---
Part of the 'When they were Young' series. An expansion on the 'When they were Young' trilogy.
---
The stories that started the 'When they were Young series'
'To the Moon!
'The Box Queen and the Dracony'
'Operation: Cookie Liberation'
---
Silly story inspired from the cover art for Halloween by the awesome Aeritus, go show some love!
---
Thanks to my pre-reader DVAN56 and editor Vexy go give some of their work a look!
Chapters (1)