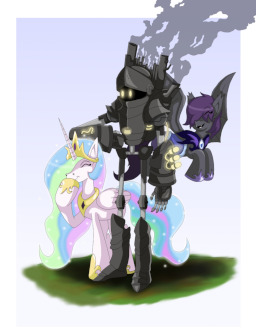 I'm... not sure what happened. I remember the unicorn guy, what was his name? Starmswill the Tearded? I don't know, names are kinda off for me right now. So anyway, there I was with this unicorn then, BOOM! I found myself in the middle of his laboratory, albeit ruined.
Bit strange, isn't it?
So I started to walk, following this odd looking stripey thing, and found this cute little town. Seriously, it's utterly adorable.
And that's when I saw her, the lovely Celestia... ah, it sends my gears a flutter! Although I don't know who the blue alicorn is... or the lavender one... wait, I don't know anyone here apart from Celestia!
---
Thanks to Infinite Carnage for pre-reading and Draconian Soul with help on Zecora. Go check out their stuff! Cover art was done by myself.
Chapters (15)