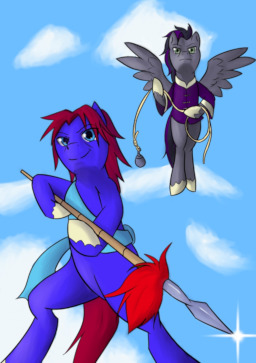 Source
This story is a sequel to Foal of the Forest
---
Second story of the Savage Skies series:
Dawn Lightwing has overcome many trials in his life; persecution for his unique eyes, living amongst the monsters of the Everfree Forest. But now all of that is behind him. He's been adopted by Fluttershy, mended from his conflict with Applejack, and now sits poised to go to school and live the life of a normal foal. Unfortunately, Dawn's past is not so far behind him as he would like, as his experiences have left scars on his mind and heart that threaten everything he has gained since coming to Ponyville.
Followed by Storm on the Horizon.
Now with a TV Tropes page.
Chapters (10)