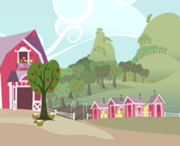 This story is a sequel to Shadow of the Sun
---
Story 5 of the Savage Skies series:
Autumn has arrived in Ponyville. The harvest is in full swing and all is as it should be. After enduring the trials of the past few months, Dawn Lightwing is looking forward to what promises, hopefully, to be a peaceful season before a tumultuous winter. However, the coming season has the unwelcome effect of bringing his enemies closer than he feared. However, he is fortunate to have a loving family, good friends, and somepony who is maybe more than just a friend.
The series begins in Foal of the Forest.
Now with a TV Tropes page.
Chapters (22)