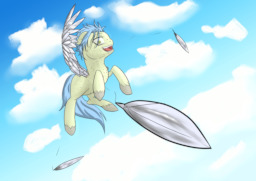 Source
This story is a sequel to The Promise of a New Day
---
Story three of Savage Skies:
All sorts of things are brewing in the pegasus city of Cloudsdale, which is a problem for Ponyville as the one thing that isn't is a rainstorm. As the drought continues to drag on, Rainbow Dash must confront her hometown and its history, as well as her own history. But she won't do it alone, which is good, because she'll need all the help she can get.
Series starts with Foal of the Forest.
Now with a TV Tropes page.
Chapters (22)