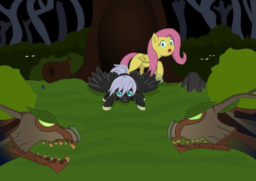 Source
First of the Savage Skies series.
After running afoul of timberwolves in the Everfree Forest, Fluttershy is saved by a mysterious young colt with a most unusual and disturbing feature. Realizing that he is alone, without anyone else to care for him, Fluttershy realizes that she must try to bring this lonely foal out of the forest and give him a life of love and friendship. The problem is that this colt's...unique qualities have made him more than a few enemies, including some who are closer to home than Fluttershy realizes.
Now with a sequel: The Promise of a New Day.
Now with a TV Tropes page.
Chapters (15)