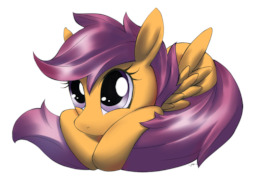 Source
*This is a side story to The Winds of Change, and starts after the first chapter of the sequel.*
With the sudden re-drafting of Jason and Dash into the military, Scootaloo is left feeling more alone than she can remember. Sure, she still has her friends, but friends can't just replace parents. And now with knowledge of her parent's leave all over the town, Diamond Tiara's bound to pick up on her weakness. But she's not the same scared, defenseless pony she was a month ago, is she?
Honestly, this works without knowledge of the prior story, besides the fact that Jason and Dash are her parents, and that they both have a heavy military background. Other than that, it's just another story.
Tags were hard with this, I have to say. There's only light romance, so don't worry about implied foalcon. There's no human tag, because Jason's only mentioned, and is barely involved if at all.
Chapters (7)